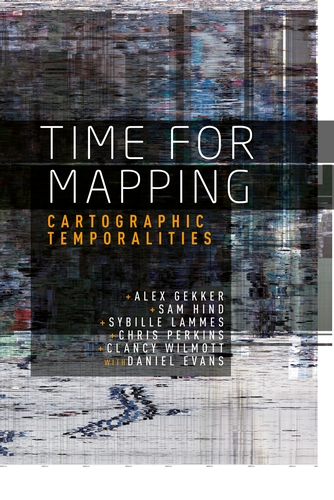 Edited by Alex Gekker, Sam Hind, Sybille Lammes, Chris Perkins and Clancy Wilmott, with Daniel Evans
Published by Manchester University Press, 2018.
Maps take place in time as well as representing space. The Google map on your smartphone appears to fix the world, serving as a practical spatial tool, but in practice is deployed in ways that draw attention to memories, rhythm, synchronicity, sequence and duration.
This interdisciplinary collection focuses on how these temporal aspects of mapping might be understood, at a time when mapping technologies have been profoundly changed by digital developments. It contrasts different aspects of this temporality, bringing together experts from critical cartography, media studies and science and technology studies.
Together the chapters offer a unique interdisciplinary focus revealing the complex and social ways in which time in wrapped up with digital technologies and revealed in everyday mapping tasks: from navigating across cities, to serving as scientific groundings for news stories; from managing smart cities, to visual art practice. It brings time back into the map!
More details are available on the publisher's website.