World-Making in Urban Cultural Studies – Edited by Carolyn Birdsall and Simone Kalkman
Special issue: Journal of Urban Cultural Studies 5.2 (2018)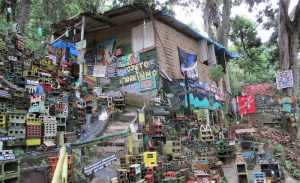 In this special issue, we explore the relevance of the concepts of worlding and world-making within the context of urban cultural studies. We ask how cultural practices make worlds and how these practices are in turn worlded, with particular attention to the diverse forms that the urban (as a 'global' phenomenon) takes across the world and fact that academic research itself should be considered a form of worlding. In doing so, three focal points come to the fore. The first is the importance of so-called 'elite dreams' and their messy and contested relation with worlding practices from below. Second, we emphasize the need to examine the social, political and economic contexts in which cultural objects are created, distributed and received – which calls for an interdisciplinary approach. Third, we focus on historical differences and the need for longer-term perspectives within scholarly research, considering how particular cultural practices are preserved and remembered.
Contents

Editorial: Making worlds in urban cultural studies – Carolyn Birdsall and Simone Kalkman
The beach as microcosm of a cosmopolitan city: Imagining and experiencing urban encounters at Trieste's Pedocin beach – Milou van Hout
(Re)Addressing Mostar: Global imaginaries, local activisms – Giulia Carabelli
Of 'Godziners' and 'Designer Citizens': The emergence of designers as political subjects in Cape Town – Laura Nkula-Wenz
Bourgeois worlds and urban nightmares: The post-Ottoman Balkan City  through the lens of Milutin Uskoković's Newcomers – Miloš Jovanović
Favelas at the biennale: Exhibiting Brazilian informality in Europe – Simone Kalkman
Urban encounters: Performance and making urban worlds – Dan Swanton
Seeing the self in the world: Attending to banal globalism in urban visual cultures – Simon Ferdinand
Defiant worldings from Manchester, England: Expulsed global solidarities and the international homeland of dignity – Cornelia Gräbner
Mobile worlding: Exploring the trans-urban circulation and the interconnectedness of migrants' urban world-making practices – Luce Beeckmans
For more information about the issue, see: https://bit.ly/2QF7tI8