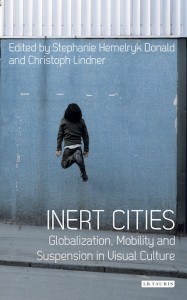 Edited by Christoph Lindner and Stephanie Hemelryk Donald.
Published by I.B. Tauris, 2014.
We usually associate contemporary urban life with movement and speed. But what about those instances when the forms of mobility associated with globalized cities – the flow of capital, people, labor and information – freeze, or decelerate? How can we assess the value of interruption in a city? What does valuing stillness mean in regards to the forward march of globalization? When does inertia presage decay – and when does it promise immanence and rebirth?
Bringing together original contributions by international specialists from the fields of architecture, photography, film, sociology and cultural analysis, this cutting-edge book considers the poetics and politics of inertia in cities ranging from Amsterdam, Berlin, Beirut and Paris, to Beijing, New York, Sydney and Tokyo. Chapters explore what happens when photography, film, mixed media works, architecture and design intervene in public spaces and urban communities to disrupt speed and growth, both intellectually and/or practically; and question the degree to which mobility is aspirational or imaginary, absolute or transient. Together, they encourage a re-assessment of what it means to be urban in an unevenly globalizing world, to live in cities built around mythologies of perpetual progress.