Simon Ferdinand in GeoHumanties 2.1 (2016), 220-237.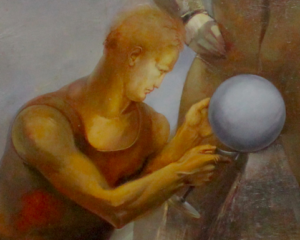 In 1935 the Soviet artist Solomon Nikritin finished a painting entitled The Old and the New, depicting a bare geographical globe amid figures symbolizing tradition and progress in a nebulous wilderness. This article reads the picture as a reflection on how global cartography shapes modern modes of conceiving and inhabiting space. Drawing on Peter Sloterdijk's argument that terrestrial globes manifest a posttheological spatiality and arch symbol of modernity, my exploration of The Old and the New stresses the conflicted implications of global mapping for modern culture. In Nikritin's picture, globalism is seen to estrange people from place, supplant traditional worldviews, and challenge modern subjects to consciously originate new spatial orders. The article closes by establishing the painting's resonances with global discourses in Soviet and contemporary visual cultures, arguing that Nikritin's picture focuses a continuing modern impulse to map meaning and order onto a disenchanted earth in which neither inhere.
Image: Solomon Nikritin, The Old and the New. A Group Portrait, 1935 (Nukus Museum, Uzbekistan).